Live brighter, with more style
Bi-Fold Doors
Do you dream of giving your home a vibe that's altogether brighter and roomier? With bifold doors, you'll open up an entire wall of your residence, turning your interior and exterior into a single seamless space.
We've experimented with bi-folding materials and we're convinced aluminium is the way to go. It's light, strong and thin, giving you more glass and less frame, thereby maximising your views.
When it comes to designing the configuration of your bi-folds, we'll take our lead from you (top or bottom tracks? Inward or outward folds?). We offer a fabulous selection of colours and finishes, plus a choice of over 85,000 components, which is great news for the stylist in you. We'll steer you towards a solution that both meshes with the character of your home and highlights your personality.
Open up your vista. Transform the way you use your home.
Tell us a little about your plans and your property, and we'll send you a quote customised to your needs
By providing your details, you will be contacted by Kayvex Windows regarding your enquiry. You will not receive marketing emails unless you choose to opt in. Privacy Policy.
Harmony, space, light – get with the trend
Bifold doors are popular for a good reason. In sunny weather, they open all the way, creating a neat stack of panels to one side so that warmth and fresh air can flood your home. On wintery days, they invite much-needed light into your living space while sealing out the cold. So truly – what's not to love?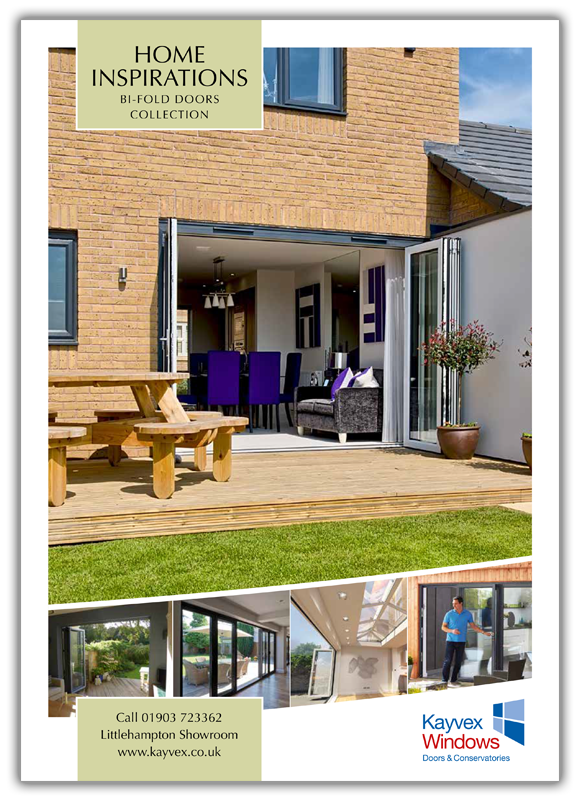 Download our brochure
Our guide uses clear explanations and beautiful images to present the various options for bi-folds. We describe the different hanging and folding configurations to clarify what would work best in your home.
By providing your details, you will receive email communication from Kayvex Windows. You will be asked to confirm your request before receiving any further information. Please read our Privacy Policy for more information.