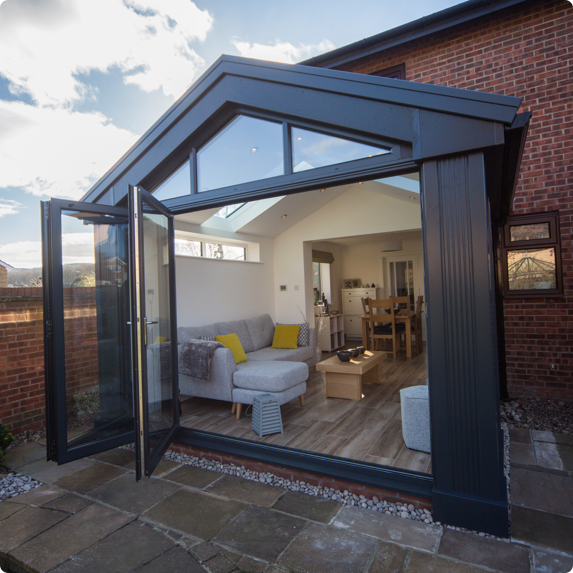 Modern and Traditional Conservatories
Space is an alluring fantasy for many home-owners – but you can turn the dream into reality with the addition of a conservatory or orangery.
A bespoke installation from Kayvex Windows will give your family precious wriggle room while adding a whole new level of brightness to your household. All for a very good figure.
We custom-build luxurious conservatories, orangeries and extensions of every description. When creating a design for you, we'll ensure your new installation blends with the period of your home and complements the existing colour scheme and décor of your residence.
Your new conservatory will be secure and durable, and will come with a comprehensive guarantee to give you decades of worry-free pleasure. We'll extreme-weather test it in our state-of-the-art UK factory to ensure you're delightfully warm summer and winter.
Transform your home – welcome in the daylight
Your family's living needs change over time. Give everyone the space they need to stretch and grow.
A conservatory can be as flexible a living space as you want it to be – assign it a role or designate it a multifunctional zone according to your needs. So what will it be… a cool space for the kids to hang out in? A quiet spot for you to sip coffee? A place for you to curl up together and watch the telly? See your new installation as a gift to your family – a little extra room to bring harmony and elbowroom.
Stamp your personality on your new conservatory
Ornately traditional or chicly modern? Your conservatory should make a style statement that reflects well on you. It should also complement the period and character of your home. Are these both achievable? Of course – it's about taking care in your choice of style (modern or classical), shape (Edwardian, Georgian or Victorian), door type (patio or bi-fold), roof, colour and of course decorative flourishes. At Keyvex Windows, we'll help you find a design that chimes with your both your lifestyle and your personality.
Common questions
Is it uPVC or PVCu?
You might have seen different people refer to uPVC, and others to PVCu – but which one is correct? In fact, they both mean exactly the same thing; unplasticised Poly Vinyl Chloride. In English, those acronyms result in uPVC, but in the 80s it was formally changed to PVCu as the majority of European languages say the noun (PVC) before the adjective (u). Despite the change, in the UK the plastic is often still referred to as uPVC. There's no need to worry – whichever way it is written, it still refers to the same durable plastic that we use to create many of our doors, windows and conservatories.
Is it worth having a conservatory?
Having a conservatory can make a real difference to your home. It is one of the easiest ways to add space to your home without having to apply for planning permission – which can be a slow and costly process – or wait weeks for a full extension to be completed. The extra space is extremely versatile; it can be space for you to hold dinner parties, a playroom for children that doesn't mess up the main living room of the house, or even as a calm space for you to feel closer to nature. If you're hankering after a little extra space in your home, then a conservatory can be a great option to extend your home without the hassle.
Are conservatories cheaper than extensions?
In general, conservatories are always cheaper than extensions of the same size. This is because extensions use a variety of different materials, including concrete, bricks, a roof and windows, and have to comply with certain insulative regulations. A conservatory on the other hand is made mostly of glass with either an aluminium or PVCu frame, and so once it has been made in our state of the art factory, it is much easier and faster to build and secure. If you're looking to build a conservatory on your home but aren't sure how much it would cost, contact us today for a free, no obligation quote.
Do you need planning permission for a conservatory?
In almost all cases it is not necessary to apply for planning permission for a conservatory, as it usually falls under "permitted development" rights. This means you can extend your property as long as it is not excessively large and the roof isn't higher than your existing roof. If you contact us with a conservatory that might need planning permission, we will let you know so that you can take the appropriate steps to do so. All our products are approved by CERTASS which provides a Building Regulation Compliance Certificate for any work we carry out. If you're not sure whether your conservatory would need planning permission, contact us today to find out more.
0% APR representative on orders over £3,000
We have various low-cost finance options available. Get a quick quote and apply for finance at the same time.