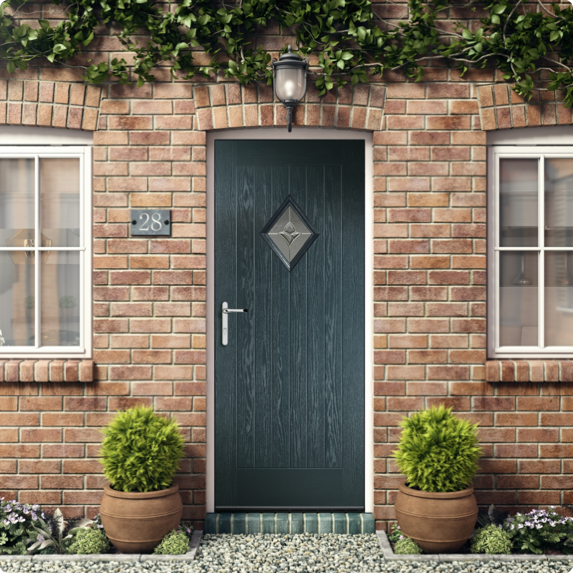 Exterior Door
Range
Nothing says 'welcome home' quite like a beautiful front door.
It's the gateway to your private haven and your visitors' first point of contact with your residence – so are you ready for your house door to make a powerful first impression.
At Kayvex Windows, we're experts at matching our customers with their ideal bespoke door. So what do you fancy? A traditional style door, a clean-lined minimalist door, or something stunning in the middle? Our exterior doors come in an extensive range of styles, glazing options and colour finishes.
We specialist in doors for other parts of the home too, so if you're looking for patio or french doors, you've come to the right people.
Choose a style that blends with your personality – and your building
The period and style of your residence should be at the forefront of your mind when choosing a front door, and we'll steer you towards a solution that's complementary to the rest of your home. We offer an impressive range of house door styles, from well-priced uPVC to elegant woodgrain-effect composite. We'd love you to add your personal touch through your choice of colour and decorative detail – because you deserve a door that truly chimes with your personality and aspirations.
Quality, security and durability: what you need from your door
At Kayvex Windows, we're a little obsessed over long-term performance, which is why all our house doors are rigorously tested to ensure energy efficiency, durability and security. Your new door will be made in our avant-guard UK factory and installed by local people. It will come with a comprehensive guarantee so you can be sure it will serve you (and look amazing) for decades to come.
Common questions
What is the most secure type of front door?
Security is a significant factor in choosing the type of front door you want for your home. There are different elements to a door that make it secure, but most important are the material it is made out of and the type of locking mechanism it has. Timber and composite doors are the most common secure materials for a front door, but it doesn't matter how strong the door is if the locking system is sub-par! Go for a multi-locking point system that is extremely difficult to break into, rather than just a standard Yale or mortice lock.
How do I protect my doors from burglars?
Protecting your front door from burglars requires choosing a strong front door with a strong locking system; but that is only one part of it. Burglars will choose your home depending on a number of factors, rather than just what your door looks like. Make sure not to leave flashy items outside, leave lights on timers if you're away on holiday, and install cameras outside your front door – even a decoy one might be enough to put a potential burglar off. All our doors at Kayvex are built to the highest quality and comply with the Secure by Design initiative that improves security of buildings in the UK.
Is a new front door a good investment?
A new front door can add value to your house in multiple ways; by increasing the kerb appeal, providing increased security, and protecting your home from cold and wet weather. Estate agents are aware of how a new, high quality front door can add value to your home, and potential buyers are also likely to appreciate the fact that they won't have to worry about replacing the doors anytime soon.
Not only is it a good investment for reselling your house, it is also a good investment for you in general; having a new and secure front door will help you save on energy costs and help you feel safer and more comfortable in your home.
Are front doors thermally efficient?
This depends on the front door; composite doors are usually the most thermally efficient. In October 2010, the British government brought in new legislation that requires replacement composite doors to have a U-rating (heat loss rating) of no more than 1.8W/m2k. If you're looking at a door's U-value, you want the number to be as low as possible. Other energy scales used for front doors are from A+ to G, and you want to get as close to A+ as you can.
By investing in a high quality, insulated and weatherproof front door, you can reduce your heating costs and reduce noise pollution at the same time.
What is the best type of patio door?
If you're choosing a door to go from your home into your garden, you may be a little confused about how many different styles there are! Choosing the right one depends on how much you use your doors. If your patio doors will serve as one of the main entrances to your home, you want to find one that is easy and quick to open and close, like a French door. Bifold doors, on the other hand, open slower but allow you to completely open up your home to the outside, as they create unobstructed access to the garden. Sliding doors are a good option if you have limited space, as you don't have to worry about a door frame taking up room in your home.
Do I need a fire door?
When installing a new front door, it's important to make sure you comply with the latest fire regulations. Currently, if your house is over two storeys high then you are required to install a fire door separating the stairwell and every habitable room (excluding toilets or bathrooms). If you're not sure how to comply with these regulations, then contact us today to talk to one of our experts, who will be happy to explain how you can make sure your home is as safe as possible in the event of a fire.
0% APR representative on orders over £3,000
We have various low-cost finance options available. Get a quick quote and apply for finance at the same time.