Windows
Manufactured & fitted by your local suppliers
in Littlehampton, West Sussex
Buy now, pay later
Interest free finance
Google 4.9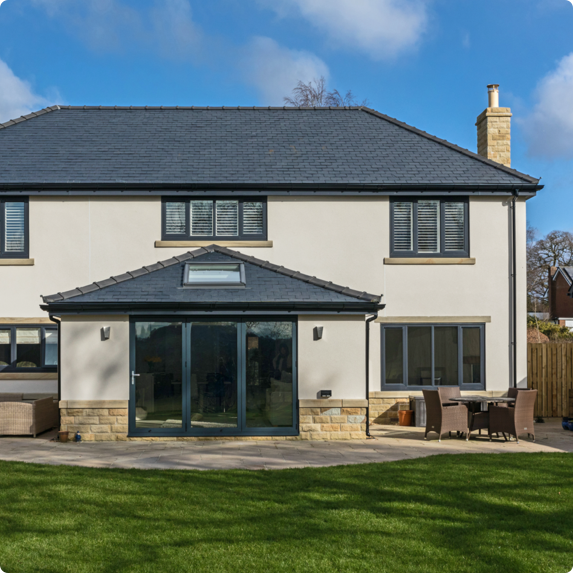 Double Glazed Windows
Whether you're tired of the appearance of your windows, or they aren't offering enough protection from the elements, Kayvex is here to help. We can install brand new windows in your West Sussex home, making your home more stylish, eco-friendly and secure. 
West Sussex has a wide variety of house styles, from classic to modern, and the Kayvex Windows team know what works and what doesn't in this area. We can help you choose a style of window that blends in perfectly with the architecture and era of your home, making the most of its unique character and charm. 
Kayvex manufacture and supply a wide range of windows with double or triple glazing. This includes popular styles such as casement, French, sash, heritage and tilt and turn windows. These all come in a range of sizes and finishes and can be personalised with different types of glazing and decorative features. We even create bespoke windows for those with unique needs.
New windows make a style statement
Like people, every home has its own personality, and you can bring this out with your choice of windows. From glazes to embellishments and frame colours, it's never been easier to bring out your home's character and create something special. While simple, white uPVC windows work well in some properties, some homes look better with more traditional styles or coloured frames, so we give you lots of options to suit different property styles
Our brochure is here for inspiration
With so many choices available, you may be in need of inspiration. Don't worry, we are here to help guide you through the process. Most people find it helpful to download our latest windows brochure, which shows you some of the styles of frame that we offer, and the many creative personalisation options available. You can then peruse the different looks at home and think about what might work for you.
Windows that add value and kerb appeal
At Kayvex, our mission is simple. We want your windows to look great and give you the style you want, but also for them to improve home security and exclude draughts, so your home feels cosy and secure. That's why we use state of the art materials to manufacture low-maintenance windows that look amazing year after year. They have a high energy rating, to keep warm in winter and cool in the summer and can block out unwanted noise to make your home feel like a peaceful haven for you to relax in. 
Home consultations bring the showroom to you
Kayvex Windows are happy to arrange a home visit, where one of our experienced fitters can discuss your needs and give you some design ideas. We can even give you a free, no-obligation quote, all from the comfort of your own home, which is ideal for those who don't have the time to visit our showroom. Simply complete our online form and we'll be in touch as soon as possible.
A local firm that you can trust
Kayvex is a West Sussex based firm that focuses on quality and the highest level of customer service. You can trust us with important home improvements, such as new windows, as we're an established, trustworthy firm who knows the local area well. With a huge range of designs, colours, glazes and decorative elements, we can create the windows of your dreams and completely transform the look of your home.
Want to see more? Visit our showroom at 1 Duke Street, Littlehampton, BN17 6EU to see some examples of what we do.
Common questions
What type of window frame is best?
The answer to this question depends on lots of variables, including your budget, your house type and what you're looking for with your new window frames. Timber frames look great with traditional home designs, but they require much more maintenance than other window frames, and they are prone to warping due to temperature changes. UPVC is an affordable, high performance option that now comes in many different finishes, including wood. Aluminium is sleek and durable, but will need you to dig a little deeper in your pocket to install them.
If you're confused about which window frame would be best for your home, contact us today to talk to one of our experts.
What type of glazing should I get?
The standard glazing offered by most window companies is double glazing, although not all double glazing is created equal. We've found a 28mm unit with a 20mm gap between the panes to be the most energy efficient and noise reducing, so we offer this in all our double glazed windows. Single glazing is very inefficient and causes condensation, and is rarely installed in new properties.
If you live in a very cold area and want the best thermal efficiency on the market, then contact us to talk about triple glazing; with three panes of glass and two gaps, it is ideal for exposed rural properties.
Can I expect energy savings with my new windows?
This depends on the windows you had before, but in most cases, yes! If you are upgrading from single to double glazing, or double to triple glazing, then you will definitely notice a difference between the amount you spend on heating over the winter. If the windows you are replacing are fairly old, it is likely that the seal in their frames isn't as efficient, so draughts might be slipping through and further reducing the efficiency of your windows.
Installing brand new, expertly installed double or triple glazing windows is likely to result in energy savings, but you'll notice the difference most acutely if you are upgrading from single glazing.
What is the warranty for windows at Kayvex?
Our windows carry a written guarantee of up to 10 years*. This means that we are as invested as you are in giving you the best quality windows, installed to the highest standard. The guarantee may be for 10 years, but the majority of our windows will last much longer than this provided that they are cared for properly. When we install your windows, we'll explain the best way to maintain them depending on where the windows are and the area you live in.
We put our customers first, so if you have any doubts or questions about your windows, please don't hesitate to contact us.
*Conditions apply, please ask for details.
Can I match the design of my windows to my house style?
Your windows are an integral part of your home, and one of the first things people see when they visit you. To make sure your windows match your house style, we offer our windows in multiple different colours, styles and finishes so you can find one that fits!
Our standard uPVC windows come in a range of wood finishes, or you can choose from a range of colours with our Premium range; from an elegant sage green to bright cherry red. Whatever look you want for your house, talk to one of our experts today and we can find the window design that will match your house perfectly.
Do I really need new windows?
Windows don't last forever, but it's natural to want to get the most out of them each time you replace them. Rather than putting a fixed time limit on when you want to replace your windows, instead check your windows periodically to make sure they're performing as they should. Some tell tale signs that you need new windows are:
– Your windows are hard to open or close
– There is condensation between the two glass panes
– You can see visible degradation of your window frame
– Your inner window pane feels noticeably cold to the touch
If you are answering yes to these questions, then it may be time for new windows.
0% APR representative on orders over £3,000
We have various low-cost finance options available. Get a quick quote and apply for finance at the same time.