Lasting products, guaranteed
All the products that Kayvex install are designed to last for many years. However, for your peace of mind, we also offer an insurance-backed guarantee that covers all sorts of eventualities.
After installation, if anything breaks, suffers damage, or simply isn't performing as expected, then all you need to do is contact the Kayvex team. At our discretion, we will replace or repair defective windows or doors for free, whether you've chosen our flush casement windows or composite doors. This service is available for ten years after the item's manufacture, allowing you to enjoy our excellent service for many years after your purchase.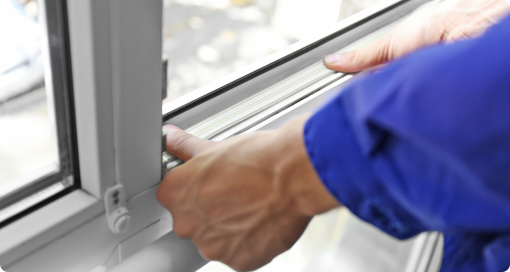 When you buy windows or doors from Kayvex, we give you a contract with our full terms and conditions, including your guarantee. Please keep a copy of this document, so you are clear what your guarantee covers. 
To keep your windows and doors in top condition for as long as possible, you will need to follow some simple maintenance instructions. While our products are designed to be low maintenance, simply following the instructions below will keep them looking brand new for many years, so you make the most of your investment, as well as keeping your guarantee valid.
uPVC Care
UPVC care is simple
uPVC frames can be cleaned by wiping them down with a simple warm water and soap solution. If this doesn't work, there are uPVC cleaners available on the market which remove more stubborn stains and are easy to use. 
You should avoid using abrasive products on uPVC such as metal polish, scouring pads or glass cleaners. This is because it can damage woodgrain or gloss finishes and spoil the look of your windows.
uPVC windows have drainage slots which stop the build-up of condensation. These are found between the external sill and bottom of the window, or inside the sashes. You should check these sills for debris to avoid excessive condensation.
Glass Care
Kayvex use the highest quality glass, however, it may naturally have very small imperfections and blemishes. These are assessed to Glass & Glazing Federation guidelines. 
Caring for glass is easy. You simply need a glass cleaning product and some kitchen roll. You spray the glass cleaner onto the glass, being careful to reach the corners, then give it a good rub with the paper towel until it's worked in. You can then use a clean piece of kitchen roll to buff the window dry and get rid of any streaks. This can be done on both the interior and exterior of your windows. 
External Glass Care
Get your windows cleaned every four months

Use warm, soapy water to remove grit and grime

Create a streak-free finish with glass cleaner

Avoid using rough scouring pads and stick to soft cloths and kitchen roll
Internal Glass
Clean your windows internally once a month

Use glass cleaner

Use soft cloths and paper towel
Hardware
If you have metal joins without nylon bearings, these will need to be lubricated once a year. Products such as light engineering oil, like 3-in-one, are ideal for this purpose. When you have your windows or doors installed, we'll let you know if there are hinges or other mechanisms that need lubrication.
Some locking mechanisms like rollers on door bolts or shootbolt mechanisms will also need to be lubricated once a year. Use a light grease like lanolin and follow the care instructions that come with your doors or windows. 
Keeping your hardware clean
Door and window hardware should be cleaned every four months

A damp chamois leather or soft duster can remove dust or dirt

Our polishes and coatings mean you don't need to use specialist cleaning products

Don't use metal polish, rough scouring pads, acetone or any other abrasive product
Tips for cleaning
You should remove jewellery such as rings, watches and bracelets before you clean glass, as this will avoid accidental scratching

Don't lean a ladder against a window frame, guttering, glass or a bay roof. Use a professional window cleaning firm if you can't reach surfaces for cleaning

Follow our instructions to clean the different parts of your windows or doors
Cleaning handles
All you need to do to clean handles is to wipe them with a damp cloth, which removes all dirt and dust.
Taking care of seals
The seals on your doors and windows help prevent draughts and keep the heat inside your home. Seals can sometimes slip out of place, so simply clip them back in place and give them a clean with a damp cloth when dirty.
Composite doors
Our composite doors keep your home warm, safe and secure. They require very little maintenance, but here are a few tips to keep them looking their best. 
Door leaf – use warm water and a soft cloth to clean away grit and grime, then dry with another cloth. 

Door frame – clean with warm, soapy water and a soft cloth. If you have stubborn stains, use a special uPVC cleaner. 

External glass – again, all you need is a soft cloth and warm, soapy water. Finish off with a glass cleaner.

Leaded glass – you will notice natural oxidation over time. Clean your windows with warm, soapy water, using a soft, non-abrasive cloth and finish off with a glass cleaner. 
Door hardware
All you need to do to clean your hardware is to use a mild detergent, warm water and a clean cloth to wipe away grime and dust. If you have moving parts, use a 3-in-1 or other light engineering oil. This is especially important in areas such as the coast or close to industrial sites, where hardware can rust much more easily.
Door hinges
Simply lubricate with a light engineering oil, as above. 
Door cylinder locks
If your door has cylinder locks, avoid using oil or graphite powder. A simple Teflon-based lubricant is fine.
0% APR representative on orders over £3,000
We have various low-cost finance options available. Get a quick quote and apply for finance at the same time.
Customer stories
We pride ourselves on outstanding customer service and enjoy hearing your experiences of our products in your homes.