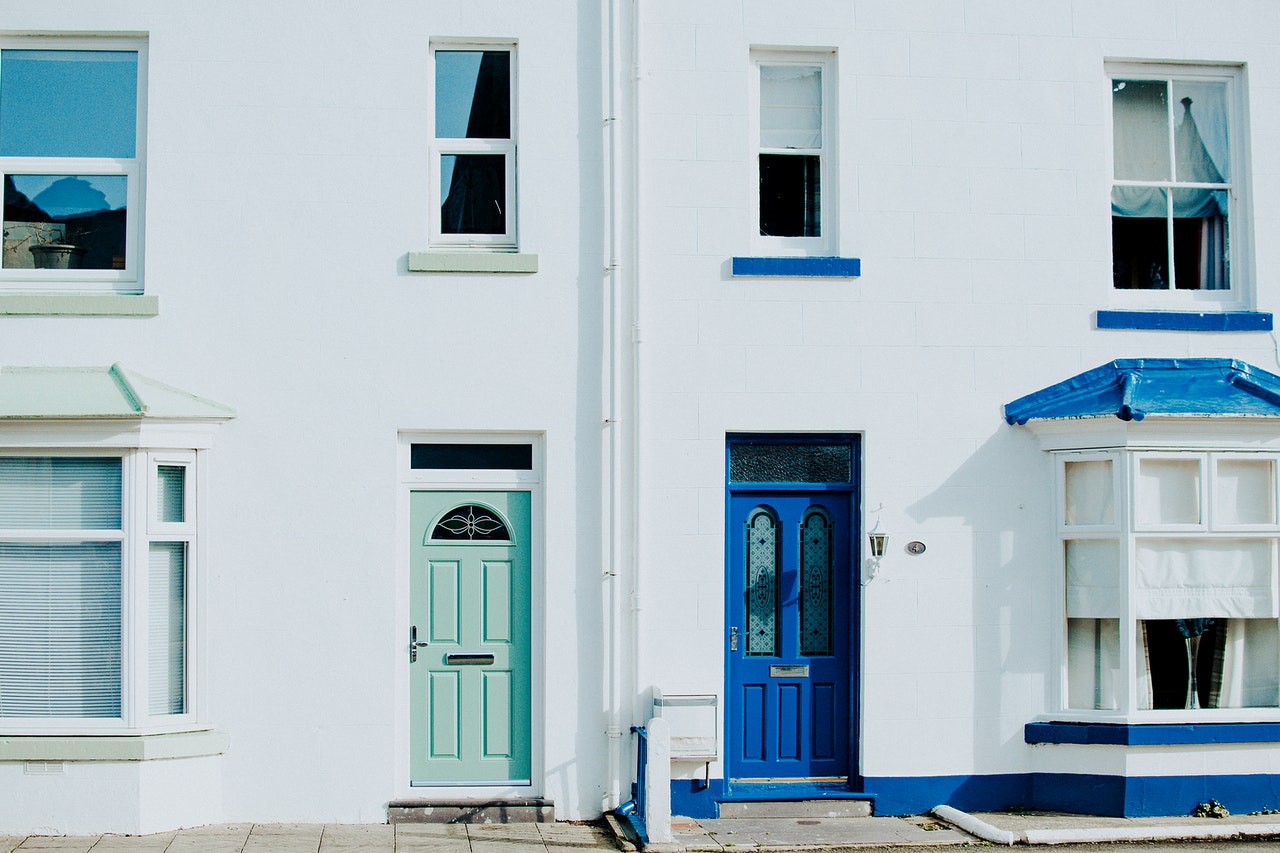 The ultimate guide to painting your front door
Spring is in the air! And that means one thing — time to freshen things up. If for you, spring cleaning season makes you want to give your front door a new lease of life, then this article should help you out.
Ready to give your door a fresh lick of paint? Here's our ultimate guide to painting your front door.
Let's get into it…
Can you paint a front door without removing it?
First thing's first — yes! You can paint your front door without removing it. 
You might want to take off the hardware including your house number and letterbox — but this is much easier to do than taking down the whole thing.
If you can't remove a fixture, simply cover it with decorator's tape to protect it from accidentally getting coated in your fresh door colour. The same goes for any glass panels in your door — use tape to stick on newspaper and avoid painting mishaps!
What paint to use on a front door
You'll need to use exterior paint (that's suitable for your door material). Remember, your door will need to withstand the outdoor elements — so interior paint just won't cut it. If you can, get a paint that's also mould-resistant.
For wooden doors, latex-based paint is a good flexible paint that also resists chipping. Paint with a semi-gloss finish is another popular option as it's very easy to clean. You can also get all-in-one varieties that let you skip the primer.
What about uPVC doors? We'll discuss this below.
How much paint do you need for a front door?
For your standard primed front door, you'll probably require around one litre of paint.
Still, how much paint you'll need also depends on what colour you're painting your door and what colour it is currently. 
It's easier going from a light colour to a darker colour (as the old colour will not show through). If you want to go from a dark to a light colour, you'll need to apply an undercoat before you start painting with your chosen colour. Otherwise, prepare to add many coats!
How to paint a front door without brushmarks
Brushmarks can really ruin a freshly painted door — so it's understandable if you want to avoid them!
Paint the door with long strokes and from the top down. If you see any lines, you can dab these away with a dry cloth. Use a good quality brush to reduce the chance of runaway bristles sticking to your paint — which anyone will admit isn't a great look!
It's extremely difficult to get a professional streak-free finish if your doors are made from uPVC (unless you use a spray). If you're utterly against having any brushmarks, you might want to rethink your painting project…
How to paint a wooden door
Here are the basic steps you'll need to follow when painting your wooden front door:
Clean the door

– scrub it with a diluted general-purpose cleaner, then rinse away the dirt with clean water. Use a strong wood cleaner to remove any mould.

Take off the old paint

– you'll need to scrape off any old paint to get a smooth surface that's fit for repainting. We recommend using a flat scraper to get underneath the peels.

Repair cracks in the door

– use wood filler to fill them in. Once dry, create a smooth surface by sanding the filler down.

Sand down the rest of your door

– use wet and dry sandpaper if the paint is in good condition and medium grit then fine grit if it's damaged.

Wipe it with methylated spirit and let it dry

– this removes any remaining dust from sanding.

Prime the surface

– this will give you a smooth surface that the paint will stick to.

Add the topcoat

– leave to dry then inspect.

Add another coat

– or more if necessary.

Screw in your fixtures

– when the paint is dry and you're happy with your door.

 

Enjoy

– you have a freshly painted front door!
Can you paint a uPVC door?
While this seems like a fairly straightforward question, there's a bit more to this one than 'Yes' or 'No'. 
While you can paint a uPVC door, you might want to have a serious think before you pick up a brush.
Why do you want to paint your door? If it's because it's old and looking a little shabby, painting it won't help. If your uPVC is faded or discoloured, then it's either past its best before or cheap and low-quality. A new coat of paint won't change this and you're unlikely to get a perfect finish. 
In our opinion, replacing your door is a better investment. You'll be able to choose the perfect colour and finish and reap the benefits of a highly secure, modern door.
This being said, if you're still determined to paint your door we won't stop you! But there are still a few things to keep in mind:
uPVC can be painted, but it isn't designed to be. You might struggle to get the paint to stick to the door, so you'll need to finely sand the surface, add a uPVC primer, and use an acrylic or polyurethane-based paint. You'll also need to consider how your paint will resist thermal expansion and UV exposure. 
Don't paint a uPVC door if it's less than 12 months old. It will still be secreting resins used in the manufacturing process and these will stop your fresh paint from binding to the surface — a recipe for disaster!
Painting your uPVC door might void any warranty you received from the manufacturer. Before embarking on your (slightly experimental) DIY project, make sure you check the fine print.
How we can help
At Kayvex, we custom make uPVC doors to your exact specifications in our South West factory. If your door has reached the end of the line, you don't want to risk giving your door a bad paint job, and you're turning your thoughts to getting a high-quality replacement, give us a call to discuss your options. 
To see some examples in person, drop by our Littlehampton showroom. If you'd like to browse online, take a look at our brochure.