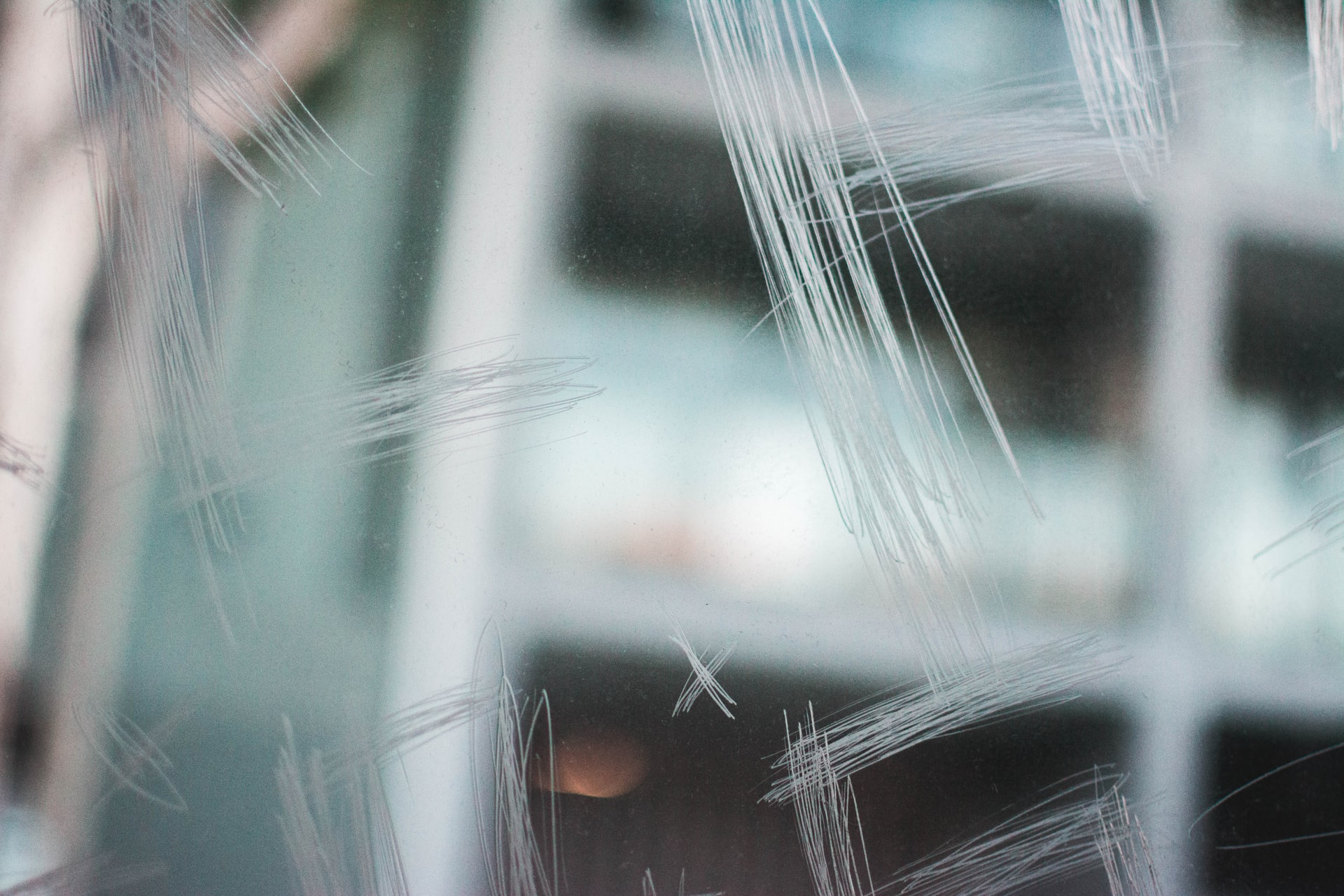 How to remove scratches from glass
Have you ever accidentally scraped a window or mirror and wondered if you need to replace the whole panel of glass? Sometimes scratches seem to appear out of nowhere! But, before you go ahead and buy new panes, there are a few simple steps you can take to get rid of mild glass scratches. 
Read on for our advice on how to remove scratches from glass and save yourself from spending unnecessary money. And the best bit? Most of these remedies involve everyday household objects!
Of course, it's also helpful to brush up on the best ways to clean and maintain your windows to prevent marks in the first place.
How bad is the scratch?
The first thing to do when you notice a scratch on your window, conservatory or glass table is to work out how bad it is.
To inspect the depth of the scratch, you'll need to clean the glass. With a soft cloth and regular glass cleaner, gently buffer the surface around the scratch. How bad is the damage? Does it catch your fingernail? If so, it may be too deep to remove at home, and you'll need to call a professional to fix it.
However, if the scratch is shallow enough that it doesn't catch your fingernail, there are a few methods you can try to fix it.
When in doubt, always use a gentle level of abrasion to avoid causing more damage. If milder options don't do the trick, you can move on to something with a rougher texture. And if you'd prefer not to risk scratching the glass further at all, you can always contact us. We'd be happy to help out and repair or replace the affected pane for you, whether it's double or triple glazed.
It's always better to be safe than sorry — if there's a risk of cutting or injuring yourself, always call a professional!
Toothpaste
Did you know that toothpaste can do more than freshen your breath? Surprisingly, it can even fix a scratched window! This method is only really suitable for minor damage, but it can still be a very effective option.
To get started, apply a small layer of toothpaste over the scratched area of the glass. 
Whitening toothpaste often contains baking soda, which gives it a good texture for polishing.  
Using small circular motions and a little bit of pressure, rub the toothpaste into the marks with a soft cloth. After a few minutes of buffing, rinse the toothpaste from the glass with some warm water. You'll be able to see if the scratches have lightened at all. If they have, you can repeat the steps. 
If the scratches remain the same depth after three rounds of toothpaste, it's a good idea to skip the minty element and try pure baking soda.
Baking soda
If toothpaste doesn't quite cut it, you can try mixing a baking soda paste. After all, is there anything baking soda can't do? A staple in most kitchen cupboards, the abrasive nature of this handy powder can gently sand away marks on glass surfaces. 
With equal parts baking soda and water, you can stir up a thick paste. A little goes a long way, so, depending on the size of the scratch, you should only need a spoonful or two. Apply it to the affected area of glass and rub it into the scratch with a clean microfibre cloth. 
Wipe away the paste to see if the magic has worked. As with toothpaste, you can try the process again a couple of times.
Liquid pumice
Liquid pumice soap is great for cleaning stubborn dirt from your hands. It contains tiny volcanic rock particles that can exfoliate the skin. And it makes a wonderful remedy for glass scratches, too.
You can use it in a similar way to the toothpaste and baking soda techniques to reduce the appearance of scratches on your windows and mirrors. To do so, layer a small amount of liquid pumice soap over the scratch and buffer with a clean, dry cloth for a minute. Rinse away the residue and see if there's any improvement, then repeat if needed.
Fine steel wool
It may seem counterintuitive to scrub a window with steel wool — surely it will just worsen the damage? However, very fine steel wool is not the same type you use on burnt pots and pans. Look for Grade #0000, which is the softest you can get. 
Rub the steel wool over the scraped glass in circular motions for a few minutes. Rinse away any residue and inspect the glass. If you need to do another round, use a fresh steel wool pad. Using a worn one may scratch the window further. 
Clear nail polish
If buffing the glass doesn't improve the scratches, you could try a different approach. Using clear nail polish is a slower process but can achieve excellent results.
To try it, clean the glass and paint a fine layer of nail polish over the scratch to fill it in. Whilst it might be tempting to use your bright colour nail varnish, it may not have the impact you want, so make sure you use a transparent variety! Leave the polish to dry for at least an hour. 
Next, use nail polish remover and a microfibre cloth or cotton pad to remove the nail varnish from the glass. Like magic, the crack should disappear too. 
Get a professional
Kitchen cupboard and bathroom cabinet items not having the desired effect? Hopefully, you now have more of an idea of how to remove scratches from glass. However, if the DIY solutions don't work or the scratch is quite deep, it may be time to call a professional. They can take a look, assess the damage, and guide you on the best course of action. Sometimes that may be getting the power tools out, and sometimes it may require replacement panes. 
We're proud of the quality and durability of our products at Kayvex. But we also know that accidents happen! If you have any issues with your windows, doors or conservatories, we'd be happy to pop out and take a look. We can offer repairs and replacements free of charge and have a wonderful collection of designs if you're interested in upgrading your windows. 
So why not give us a call or pop into our Littlehampton showroom to discuss your options?